GRUBER Logistics haulers
Join our team
A multinational family business
GRUBER Logistics is one of the most innovative and successful logistics companies in all of Europe. Thanks to the long experience in the transport and logistics sector, the company has a solid knowledge of the market and the necessary means to grow its customers' business. Since its founding in 1936 by Josef Gruber, GRUBER Logistics has constantly grown, leading to the establishment of the Industrial Group that it is today. Based in Ora (BZ), South Tyrol, the company is run and managed by the third generation of the Gruber family. With 60 branches located all over Europe and Asia, it employs over 2250 workers in six business units and is able to offer a broad array of services in the following operational areas: full loads, partial loads and groupage, heavy and special transport, air and sea transports, logistics services, industrial relocations. Thanks to the long-term experience, the international know-how and the deep knowledge of the countries in which it operates, GRUBER Logistics covers all of the most important sectors, like for instance the iron and steel industry, the metallurgical and automotive industry as well as the chemical, food and paper sectors. The fleet consists of over 2350 units, all Euro 6-compliant vehicles as well as 12 LNG-powered trucks for a significant reduction of CO2 emissions.
As a constantly growing company, we are always looking for reliable haulers for national and international transports. Join our team to become part of GRUBER Logistics' success story and enjoy the numerous advantages that come with it!
Quick payment terms
Your invoices will always be paid on time, with the possibility to customize the terms and conditions of payment. We also offer fixed rates per km (full and empty)
Regular runs
We are committed to ensuring you regular runs with high monthly mileage throughout the year
Solid partnership
We offer short- as well as long-term collaborations because we believe that a solid partnership is the starting point for an excellent service
Professional and prepared dispatchers
Our team of dispatchers speak many languages. They will be your point of contact in the company
The products developed specifically for you include: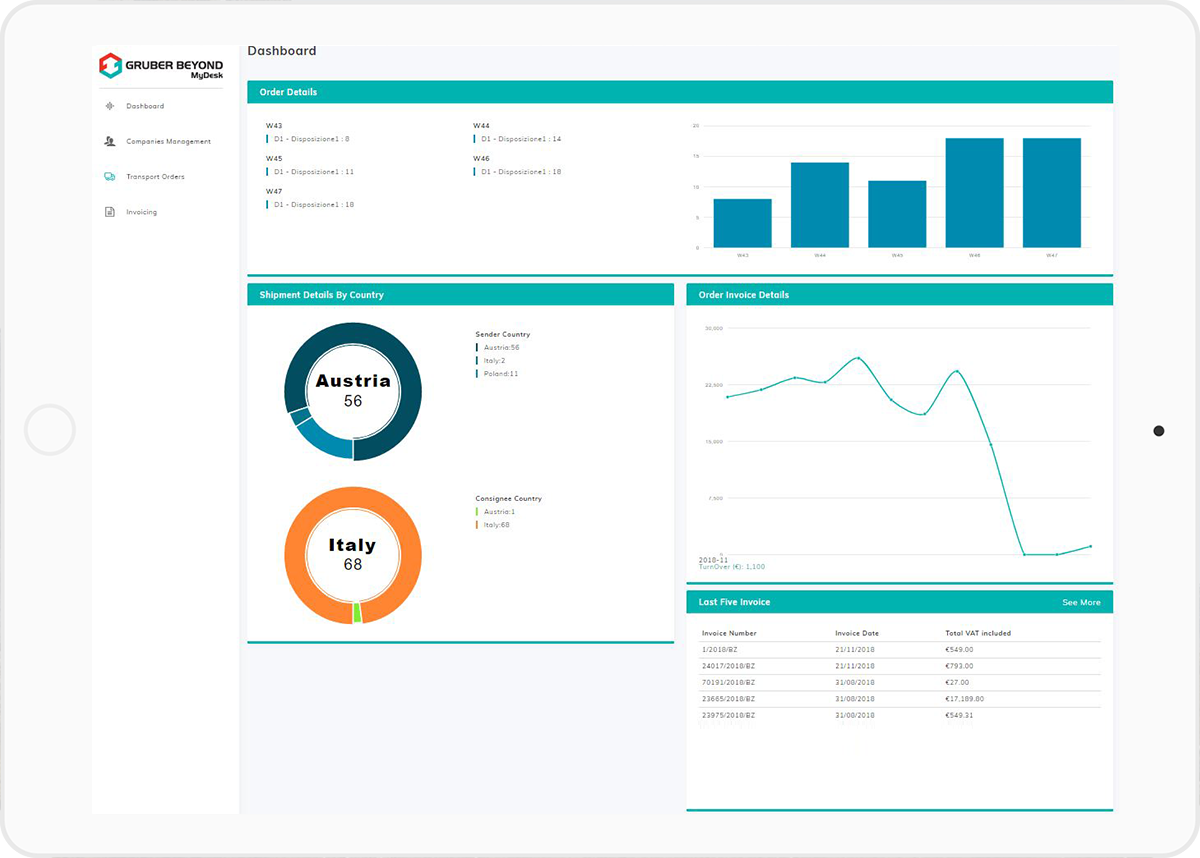 Gruber Beyond MyDesk
Gruber Beyond MyDesk is the digital platform that simplifies and optimizes your daily work by automating transport management processes. With just one click directly from your personal account, you can access the order details and monitor the status of your shipment, manage invoices, upload transport documentation and much more.
Gruber Beyond DriverApp
The platform is perfectly integrated with the DriverApp, an intuitive app that links drivers' smartphone or tablet with dispatchers, enabling real time tracking of your shipments and a dynamic and continuous exchange of information.